Getting Sick? Kick-Start Your Immune System!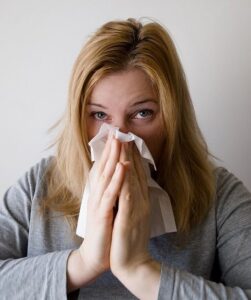 It's that time of year when people are fighting colds, flu, and other infections. There are steps you can take to help kick start your immune system to help fight against those winter bugs.
Lauricidin contains Monolaurin and is used for preventing and treating colds (the common cold), flu (influenza), swine flu, herpes, shingles, and other infections. It is also used to treat chronic fatigue syndrome (CFS) and to boost the immune system. Several fungi, yeasts, and protozoa are reported to be inactivated or killed by monolaurin, including some species of ringworm and candida albicans. A recent study found that monolaurin has potential as an antifungal treatment for candida albicans —one that can also reduce a pro-inflammatory response.
Dr Braggs apple cider vinegar is a natural prebiotic made from fresh pressed, USDA Organic certified apples grown and harvested in the USA. Contrary to what you may think, apple cider vinegar is not an acid once consumed. Instead, it has an alkaline effect on the body when taken internally. This is a huge benefit when you are getting sick and your body is in an acidic state.
XYMOGEN K2-D3 features the most bioavailable and bioactive form of supplemental vitamin K2 available and vitamin D3 (cholecalciferol), the identical form in which vitamin D is derived in the body from cholesterol and synthesized by sunlight on the skin. Studies confirm safety and efficacy for bone and heart health. Vitamin D can modulate the innate and adaptive immune responses. Deficiency in vitamin D is associated with increased autoimmunity as well as an increased susceptibility to infection.
Kick-Start Your Immune System
If you are feeling like you are coming down with the flu or a cold, boost your immune system. Start by taking a scoop of Lauricidin every 2 to 4 hours.
Drink one ounce of Dr Braggs apple cider vinegar followed by four ounces of water. When you are sick, do this heavy dosing 3 times a day.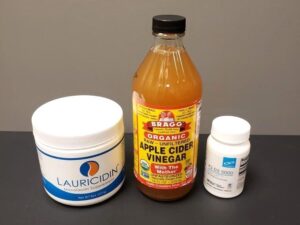 Apple cider vinegar may cause diarrhea. That is not a bad thing. In fact, it is a benefit because it's getting the toxins out of your body. To maintain good health, Dr Braggs apple cider vinegar may be taken daily.
Take 10,000 International units of XYMOGEN K2-D3 once a day for at least 10 days. Get your Vitamin D level tested with blood work to find out how much your body needs. Some need more, some need less.
Dr Braggs apple cider vinegar can be found in the health food section of most major grocery stores. Our office carries Lauricidin and XYMOGEN K2-D3.
To learn more about what supplements would be specific for your needs, schedule a nutritional consultation here or call 480-951-5006.
Treating the root cause of your condition, not just your symptoms, is the fastest way to recovery and is the best way to obtain optimal health and wellness.