Dealing with Chronic Low Back Pain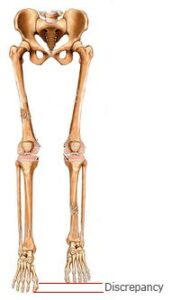 Low back pain is not fun. Most lower back complaints come from pain neurogenic from the lumbar spine, pelvis or hips. The unstable regions, usually disc or joint, generate the pain. Chiropractic adjustments are directed at the areas of fixation to offload the stress to the injured area. Rehabilitation for long term relief needs to be directed at the cause of the problem. Most people, if they have been to a chiropractor, physical therapist or pain management doctor have been told on a postural analysis they have a leg length difference. Is it Structural or Functional?
What causes a Structural short leg?
A Structural short leg can be due to a slipped growth plate in the femur, fracture of femur or tibia during youth, or alterations after a hip or knee replacements as an adult.
What causes Functional short leg?
Most of the time, the right leg is functionally short. This means the leg is apparently short because of postural or environmental stress; such as tighter muscles on one side of the body or a fallen arch in the foot.
What's the solution?
A comprehensive evaluation of orthopedic, neurological and x-ray evaluation.
There are two types of people regarding this scenario, those that wait and hope it goes away, or those that follow through with a proper evaluation to determine the therapy for a long-lasting solution to the problem. If you or a loved one know anyone that suffers with these complaints, we may be able to help you! All new patients start with a free consultation at our office. Call my office for a complimentary consultation at 480-951-5006, or schedule your appointment here.
Treating the root cause of your condition, not just your symptoms, is the fastest way to recovery and is the best way to obtain optimal health and wellness.